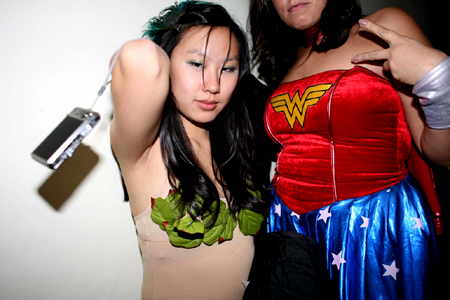 and told him to take some pictures of her.
he was all, "how will i know her when i see her?"
i was like, oh you'll know, senior snake!
and sure enough, he slithered his hipster ass up to the great white hotness of TO and took some T&A pics of the s-a double s.
and theyre delightful.
i would ask raymi why she wasnt at the bash where the cobrasnake and the zucketgirl was but if i did shed say soemthing like:
I HAD A LIFE BEFORE I DISCOVERED SASS AND I HAVE A LIFE NOW AND I WILL HAVE A LIFE AFTER AND IT WILL BE SEPERATE AND UGHHHHHHH
and i will say you didnt discover her, she wrote me first and raymi will say
BULLLLLLLLLONEY! WAY TO RUIN MY POST HALLOWEEN HIGH FYI!
then i will laugh and take a drink because any time raymi is faux/furreal frustrated/upset/pissed everyone should drink. its one reason i was buzzed for much of last month.
anyways sass is pretty and if she lived here id take a little bite off the top of her head like as if she was a butterscotch hello kitty.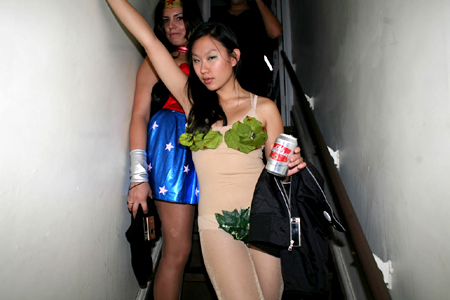 instant exclusive interview with Sass!
me: sass, what was it like to meet the famous the cobra snake?
sassephine: You don't really meet the cobrasnake. You're invaded by a flash and then you realise it's him. and then you're all like F#$% drunk eyes and beer gut.
me: you have a terrific eye for fashion, as does our friend, what was mr snake sporting?
sassephine: A white shirt? Who zucking knows. I don't recall most of the evening. Or I'm going to pretend really hard that I don't
me: where were you and why wasnt your aunti there?
sassephine: I was at the DEJOUR LOFT. Where I'll be having my birthday party on this Saturday. Aunti Raymi wasn't there because she was at another party. But I am going to see Aunti tomorrow night for girly time and cuddles. and I will get to smell her hair. I love aunti raymi. raymi raymi raymi more raymi. Even though we don't spend every single second together. Have own lives bla bla bla
me: ok quick question. is it true that youre a single woman – still?
sassephine: Yes
me: how is that even possible?
sassephine: UGH. Cuz I keep [sleeping with] losers.
me: ah. explain how they are losers so we can avoid being losers?
sassephine: They don't like me. That's pretty much it. So they do what they can to have sex with me and then peace the f out so they can shackle up with some Blonde.
me: so youre dating gay men?
sassephine: No, they're straight men. And they just don't like me. It's possible. And more often than you think.
poor sass. poor canada. poor life not making any sense.