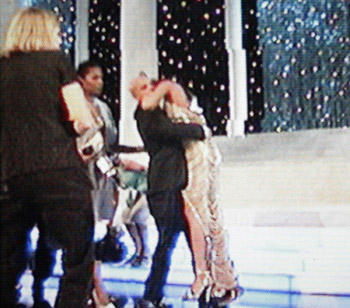 last night when the newly crowned winner, 18 yr old Zuleyka Rivera Mendoza fainted when she found out that i no longer date teenagers.
what she didnt know is i make exceptions for miss universes.
things to do today? i need to pay off these parking tickets.
i need to go to home depot to get two hooks for my whiteboard calendar.
and i need to get a nice roll of garbage bags at the 99 cent store.
isnt my life exciting? i think i may faint.
ten bucks she didnt faint because she was nervous and excited and the lights were hot and this city is hot and miss universe is hot,
but she fainted because she hasnt eaten in a week, shes on diet pills, and she snorts speed off the ass cheeks of virgins.
some nice fan sent me a Taschen book of all these olde fashioned sex pictures. like from the 1400s-1800s. and something that i noticed is even in their illustrations and paintings, the most desireable women were the curvy ones.
there are no skinny girls in the erotic images of old.
or very few, i should say, nitpickers.
for the record i thought miss trinadad was hot, i also liked miss japan, and miss denmark.
im glad miss usa didnt win, she was a ditz, and i was quite surprised how Latin the whole show was, obviously pandering to the 28 Latin countries who were being represented.
i also think the top ten was hotter than the top five.
i blame tom green who was one of the judges.