sorta thing sass does every day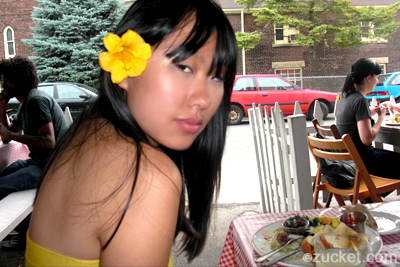 show up and they give you a glass. then theres like 8 station. fancy restaurant. each station has 2-3 different bottles of sake and two small dishes of food. most of the food is sushi.
because it was sake and sushi i invited karisa to assist me in the shenanigans. of course she was genius. each of the sake bottles had a little business card that told you its name and what made it special. and in each of the stations was a man or a woman who told you little stories about the sake and the food.
theyd give you about 1/4 a glass of sake and you could put a roll or a sashimi or a bite of something on a paper plate. then you could eat it there or gravitate to a stand up lil table and munch.
we ate and drank for hours. im warm and full and on top of the world. the hosts were very nice and invited us to another event later next month.
i think this was an event to stoke us on this restaurant in beverly hills. i think that was the plan. i think they have these events for $45 a person, all you can drink and/or eat, which is a deal cuz some of those shot cost $12 a piece. i think every woman there was asian and a knockout. i think every morsel of food was delicious and i think every sip of sake was better than the next.
i also think that they had a deal at the last station where they had two carafes of sake and you had to identify each of them for the grand prize which was a $200 gift certificate to the restaurant. i think karisa got one.
i also think that one of my favorite sakes was the banana frozen desert sake. that and the one that was organic which meant they made ducks eat the insects off the rice. very hungry birds. birds who werent eating sushi all night with the lovely karisa who had a boustier on and some jeans and the bows of her unmentionables peeking out saying hi tone.
one of the hosts said she read LAist and the busblog and she looked 17 so if shes over 18 hi baby. see you in the val next month if you invite us. and maybe before that if you wanna go to bossonova.
i think i have the best life of my whole life right about now.