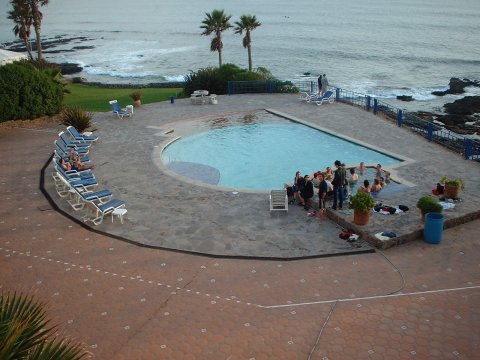 and i am squeezing the last few minutes of my birthday extended weekend vacation out to the very last drop. i guess that means that i wont truly be updating my main page.
life will go on, trust me.
to the left is an overhead shot of the sweet grassy area where ken and laura got hitched. we're actually on a little cliff that overlooks the pacific in baja, mexico. it was one of the most beautiful settings i have ever seen for a wedding. this year i have seen some fucking gorgeous weddings. don and jen got married at the presido in frisco, amy and video guy and sandy all got hitched in santa barbara. and now this. i have the greatest friends and when they get married, it seems that they all know how to do it.
i'll get more into later, but it was very cool. me and the ex- stayed at this golf resort about 20 minutes south of rosarito. though it would have been better to be partying with all of our friends, we made due with the nearly abandoned resort. i have learned to cope with my lot in life, which is to apparently be surrounded by the best people ever. as chris and i drove along the breathtaking views along the highway on sunday i asked her, "do you know how lucky we are, do you know how much God has blessed us?" and she said, "you're not kidding."
we ate fish tacos at a stand, we bought a lot of crap, we crossed the border, drove home while listening to Lovelines, watched Drew's "Riding in Cars With Boys" on my birthday (Monday), ate at M & M's and Zancau Chicken. we saw movie stars. and then she dropped me off and a few hours later i got to see rock stars – Tsar in Silverlake. way too much good stuff. im overwhelmed. im very grateful.
thanks to everyone who sent me cards, emails, nice thoughts. all your positivity has made this birthday go down smooth, which isnt easy. and i got an email from a girl that i had a crush on when i was a sophomore in high school. will it never end?!