Gage: Follow your head or follow your heart?
ive followed my heart before. turns out my heart is a crackhead with no concept whatsoever as to whats right and whats wrong and what would work in reality and what would be good for me in the longterm. sometimes i think that following ones heart is tantamount to saying lets drink this gallon of moonshine and see how fast the family station wagon can speed through traffic at night with the lights off.
jon: Do babies have accents?
yes terrible ones. which is why the Lord in His infinite Wisdom hushed them up for their first year because theyre really annoying and detrimental to the youngins' life expectancy.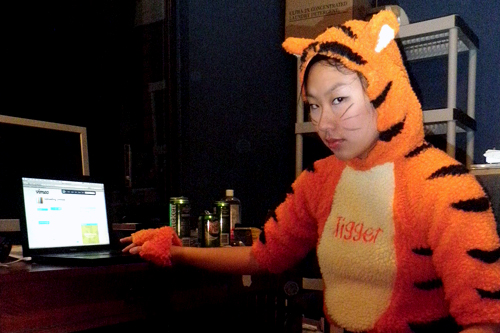 sass: If I wanted to make holiday greeting cards to sell, could you suggest yer fave online service to do so?
i know our friend Gage has made some holiday greeting cards this year and she made them through Cafe Press. not only did i like the quality of her cards but i have worked with them on several occasions in the past and they were a great online service. and i made a good deal of money from them. so right on Cafe Press.
adriel: i'm so bored…what are good ways to make new friends when you're old??
other than the trenchcoat at the library or the $20 bill on the fishing hook? how can you not make friends what with your hot bod, your single status, and this crazy new tool called Facebook? our pal Lindsay has had so much newfound success on Match.com that i think she has given up blogging all together and she lives in the midwest, therefore id think you'd have the same kind of luck.
Sarah: I showed my mom a pic of you and she said, "Tony looks younger every time I see him." How do you maintain that baby face?
theres an old saying that goes, "youre only as young as your girlfriend feels". i havent had a girlfriend, technically, in years, so i cant use that as an excuse, so i will first of all thank your kind momma (while suggesting that she get a second opinion on the prescription of her glasses), and then i will admit that i owe it all to my low carb, high fiber diet, plenty of exercise, long periods of meditation, 7 hours of sleep each night, and frequent trips to the Botox Outlet on Robertson.
Andrea: Favorite sandwich of all time?
my truest says that any sandwich made by anyone other than yourself will be delicious. i would add that PB&J on white bread still has no peers, especially if the P is extra crunchy.
Steven Allen Adams: Hey Tony. For the past few months I have allowed my news website take time away from updating my personal blog. I need some good music, but I have no idea if there are truly any good new bands that can energize me. What are your suggestions.
the other day someone asked me what new tunes they should be into and i said Funn, Those Darlins, and Edward Sharpe and the Magnetic Zeroes. I may have even provided video evidence of the last two groups. Two days later, world renowned tastemaker, and all around good guy Scott Perry praised them to high heaven last week in his New Music Tipsheet email sent to all the movers and shakers of Hollywood. (I still dont know how i got on the list.) Heres a short excerpt of his praise:
This week, [the band that is important to the music business and the business business] happens to be EDWARD SHARPE & THE MAGNETIC ZEROS, a band who are making waves in underground circles, but whose story has gone largely unheralded by the mainstream.

Yeah, they've gotten press by all the right blogs and papers. And they're starting to get some airplay as they tour the States, including indie stalwarts KCRW, WXPN, and World Cafe. However, Edward Sharpe & the Magnetic Zeros is not one of those bands that are dominating blogs & press to the point where radio HAS to play them or risk looking like a fool for not playing them. Yet.

But what's unraveling in real time, in real life, is the band is selling out concerts with little fanfare, propelled largely by word of mouth. In all honesty, I haven't seen anything like this since the White Stripes were selling out multiple nights in San Francisco, New York, and Detroit while they were still signed to Sympathy for the Record Industry — in other words, those who know, KNOW.
Needless to say i almost always agree with Scott and am tickled that i am with him this early in the game.
g/d: why all these empty artist pockets? could it be picky consumer? pickpockets.
artists' pockets are always empty. as they should be. what would have Van Gogh been if he were rich? would Michaelangelo have knocked out the Sistine chapel if he could have, instead, summered at Fire Island? doubt it. hunger in the heart and in the money is the fuel of fine art. thus bring on the picky consumers and the pickpocketers.
Courtney: if you needed to fundraise $3700 how would you go about it? ps sarah's mom is right, you are looking young in the face.
ive raised thousands of dollars on this very blog. without the help of Twitter and Facebook. if i were to do it again i would use the blog, and those two social media devices. and maybe youtube. i would be creative. i would be transparent. i would integrate PayPal and i would have a countdown. people love thermometers. but they love watching those thermometers fill up with blood even more.
Alyson: On the ladies: glasses or contacts?
im a weirdo, i like glasses. i dont care what kind of glasses. horn rimmed, john lennon type, sexy secretary, see thru vision jobs, all kinds. you know who i think is beautiful? mrs chad cavalaro. aka smelly mrs danielley. sometimes she wears matt good glasses, sometimes she goes au natural. i can see why women wouldnt wear glasses on their wedding day, but i think they are an accessory that often gets a bad rap.
monkey: can actors be trusted?
the only people who can really be trusted is your momma, your lawyer, and the man they call the blogfather.